Performance and what we deem important for that individual is completely bespoke, our strength, power and movement assessments are tailored around sporting background, activity status, injury history and goal setting.


We wanted to deliver a service that creates a community of like minded individuals from different backgrounds, all with the same goal in mind. That goal may be bespoke but everyone who is a part of the PER4ORM community are all working towards "being better every day".


The creation of our PER4ORM group was done for a number of reasons.


Firstly we wanted to make our S&C service accessible to as many people as possible. Whilst some people enjoy the one on one nature of individual sessions, the group style delivery of the PER4ORM program enables people to train together (with team mates, training partners or new friends at R4P!!) whilst working on individual programs.


The cost benefit of this is that 1 hour sessions end up costing equivalent to a PT session whilst being delivered by a Masters level Strength & Conditioning expert.


The service is like no other in the UK; we offer in-depth assessment and reporting using the myriad of strength and performance profiling equipment at the facility to develop a truly bespoke program.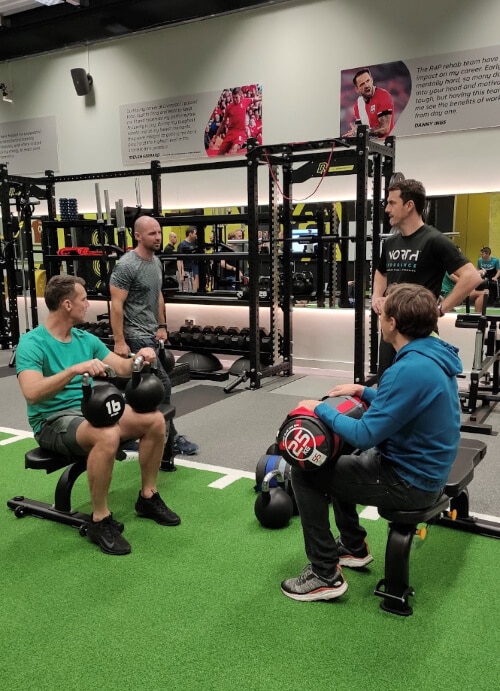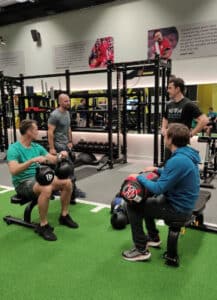 The very first contact will be an in depth assessment around your current physical capabilities and can include:
Specific muscular strength testing
Global lower limb strength profiling
Power capability
Reactive strength
Trunk and muscular endurance
Movement screening
Range of motion analysis
Cardiovascular assessments (VO2max)


Post assessment you will receive your own report detailing important data around your current physical performance status. Your report will be broken down to resonate and link in with you as an individual, highlighting where you are performing well and where we can help develop your performance further.


The objective nature of our assessments guides your programme with a formal reassessment every 6-8 weeks, here we look to confirm our programme is helping you achieve your performance targets, while making any adjustments needed.


Upon completion of your assessment and receiving your individual performance report you will be coached through a 1 on 1 strength and conditioning session.


When you are happy with the new program you will filter into one of our exclusive PER4ORM groups (maximum of 4 per group). The 1 to 1 gives you the ability to gain confidence and to be coached under the finer details for you to maximise and develop within your own physical performance program.


PER4ORM has a wide appeal, we have professional athletes, high level endurance athletes, recreational golfers, physiotherapists, personal trainers, yoga teachers, individuals waiting for ACL surgery (wanting to head in to surgery in the best possible shape) and the general population.


This unique environment is one where everyone is on the same path, wanting to be better and develop their own physical performance. The impact this has had on these individuals is testament to the work ethic and application when attending the group sessions.
Alongside the group sessions everyone is aware that a single weekly  session is not enough to develop and improve their physical performance; under the guidance of our S&C coach they are all given tasks, exercises and sessions to be taken away and completed individually.


Having the confidence to do so knowing they are able to complete the exercises programmed with complete technical competency. The PER4ORM experience is just as much of an educational experience given the tips and insight into what it takes to become better.


We've seen some great improvements with PER4ORM, not just in the gym but how their PER4ORM experience has influenced their performance in their chosen sport or activity.  A great example of this is the work completed with our endurance athlete who was able to complete a marathon in sub 3 hours and post a new 10K PB. She is continually improving and feeling stronger/more efficient in her running performance having previously done virtually no structured strength and conditioning work around her running.


The impact of PER4ORM in complementing her running with performance targeted strength and conditioning work has been incredible.


Other examples highlight PER4ORM members constantly progressing with their lifts and loads lifted, moving freely pain free, being able to complete exercises with confidence that they haven't been able to complete for years.


PER4ORM brings elite level strength and conditioning packages to the general population and aspirational athlete. It's group format makes it affordable without losing our trademark attention to detail and the bespoke nature of the programs with performance at the forefront mean we are able demonstrate consistent performance improvements both in the gym and on the track (or field).


This is the first of 4 blog posts about our PER4ORM experience, keep an eye out for our next one where we will detail some of the case studies, experiences and success stories from our PER4ORM members. If you want to be a part of our exclusive PER4ORM experience, book in your initial assessment now to begin your PER4ORM journey and make some positive changes in your physical wellbeing and performance.