The R4P Liverpool Bike Clinic
The R4P Liverpool Bike Clinic is a combined service which aims to bring the expertise of world leading sports medicine professionals to the elite, sub-elite and "want to be treated like the elite" cyclists of Liverpool and the wider northwest region.
The R4P Bike Clinic is led by Dr Nigel Jones, Consultant in Sports Medicine and Chief Medical Officer for British Cycling.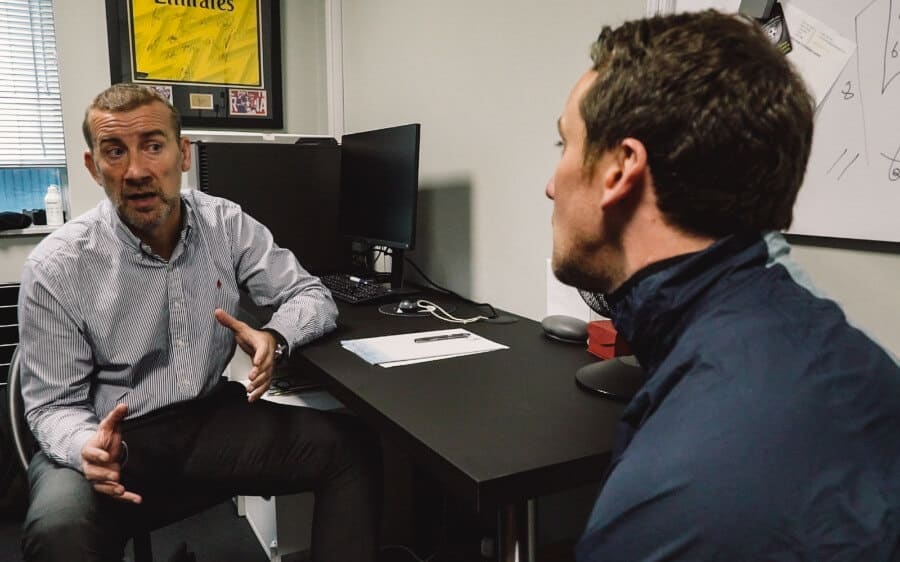 If you have any cycling related injury, illness or performance concern – a consultation with Dr Jones will get to the bottom of the issue for you. A management plan can then be put in place to ensure you're back riding how you want to be as soon as possible.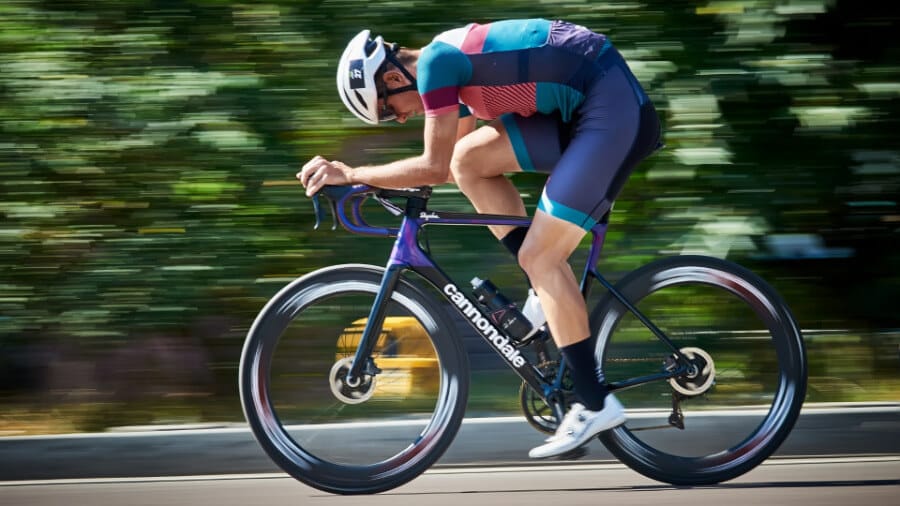 We have access to all appropriate medical investigations, a world class rehabilitation team and an expert Bike Fit Specialist, so what does a professional bike fitting session involve and who can benefit? The latter is quite simple (everybody), and the former will involve a little more explanation so please read on.
Bike Fitter
We are fortunate to be able to call upon the services of Highly Specialised Physiotherapist, Tim Pigott. In this growing area of the physiotherapy profession, Tim is rightly recognised as an expert in the field of bike fitting and is likely to be the first name recommended if you were to google "bike fitting Liverpool", "bike fitting Manchester", "bike fitting by physio" or "where to get a bike fit near me !".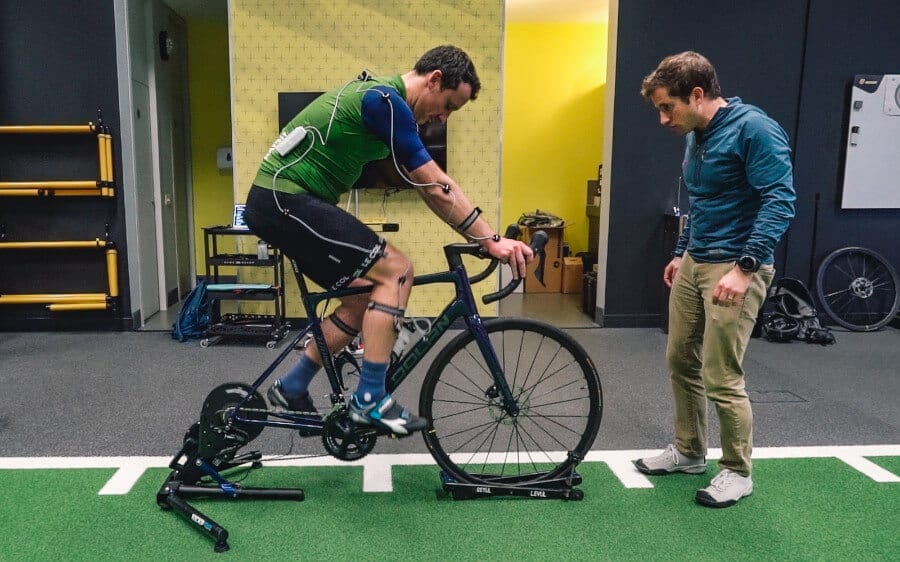 Tim is an extremely experienced professional bike fitter, qualified physiotherapist, elite coach, public speaker and writer. Alongside his numerous publications in academic journals, Tim is the Programme Lead at Salford University for the MSc in Trauma & Orthopaedics, and a lecturer for MSc Advanced Physiotherapy.
His research theme involves cycling biomechanics, with numerous projects being undertaken to develop the knowledge of the bike fitting and cycling medicine profession.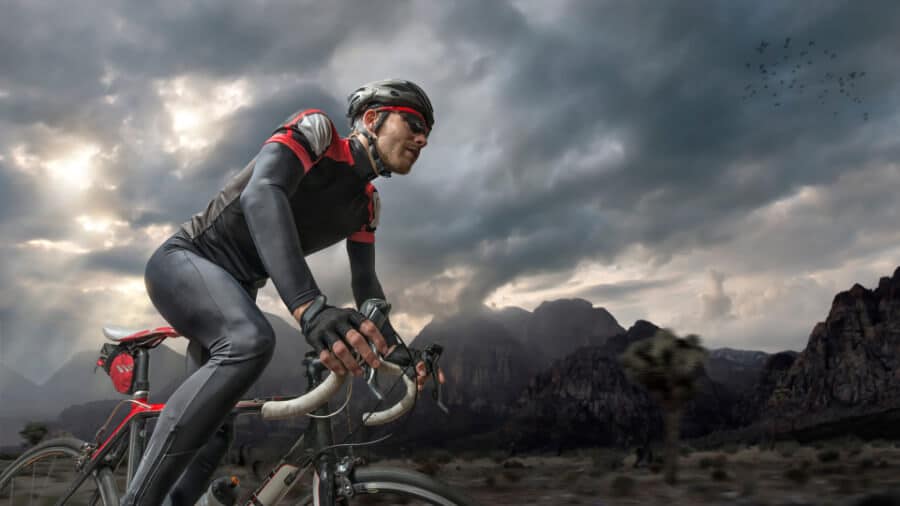 Here at R4P, Tim has access to a 3D Retul double-sided motion sensor, various bike fitting video apps, a Wahoo Kickr turbo, numerous test saddles and a wheel riser. He also fits clients for cycling insoles.
Tim has worked with some of the biggest names in bike fit, and has treated and coached a number of professional athletes. However, he is passionate about working with cyclists of all ability levels – perfectly aligned with the R4P ethos!
He has an excellent youtube page with more links to the world of bike fittings. https://www.youtube.com/@TheCyclingPhysios
Why a bike fitting?
A professional bike fit is essential for comfort, injury mitigation, and performance enhancement. We have all experienced that new bike feel of the set-up not feeling quite right and the ride feeling harder than it should do or ended up with aches and pains due to sub-optimum positioning on the bike.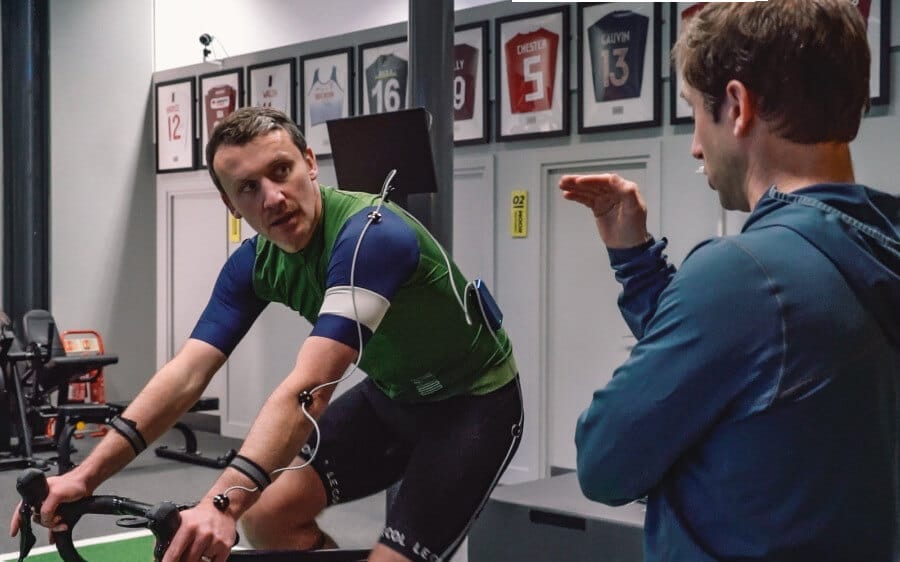 So many factors influence the correct position, but when done correctly it optimises power output, aerobic efficiency, aerodynamics, and sustainability for the target event duration. A few degrees of adjustment at any of the key rider contact points can have a huge impact depending on personal preference and performance enhancement.
This is a great video explaining just why a bike fit session can be so helpful – https://youtu.be/rAISxmTds_U
Cyclists average between 80-100 pedal revolutions per minute, which equates to around 5400 revolutions per hour. For cyclists riding anything from a few hours per week as a leisure ride, through to competitive cyclists doing 15-20 hours it's easy to see how small margins in terms of the optimum position can end up becoming problematic.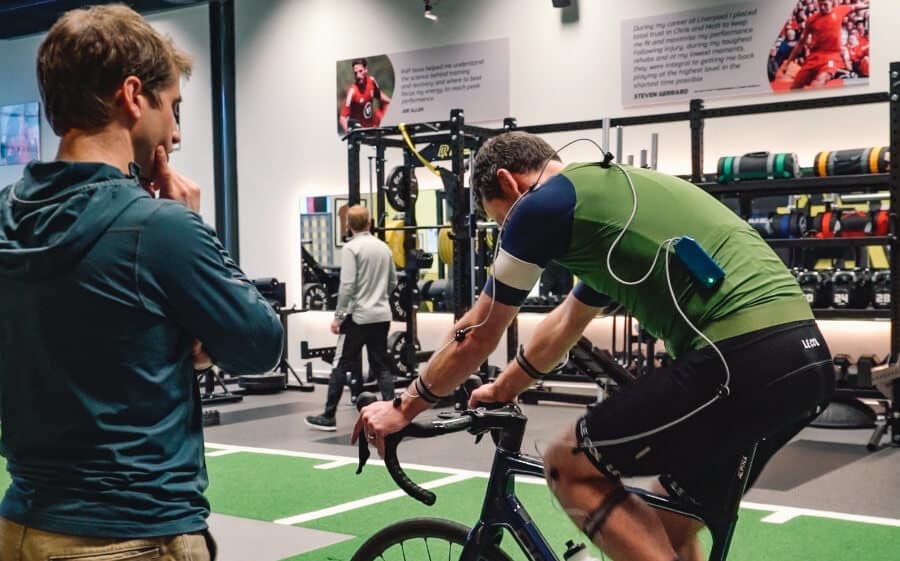 Any part of the musculoskeletal system can become painful if the best position for the individual isn't optimised. In no particular order, poor fitting bikes can lead to knee pain, hip pain, Low back pain, thoracic pain, neck pain, shoulder pain, wrist pain or foot and ankle pain.
The time spent in the wrong type or fit of saddle can lead to pressure sores in the saddle region and essentially any of the issues mentioned above would be classed as an overuse type injury.
Whilst any bike can benefit from a cycling fit session it is important to start with a "good bike"; this isn't a bike service and overall cycle MOT but instead an optimisation of a healthy bike for the individual cyclist. A bicycle fitting can be done on a racing bike, road bike, hybrid bike, mountain bike or BMX but speak to us first to determine suitability for the service.
What to expect at your bike fit.
The physio bike fitting session can be split into two main components, firstly a static (physiotherapy) at rest assessment takes place with the cyclist taken through a thorough screening process. Here a series of measurements are taken to get a complete picture of the rider's size and range of motion in the key joints. Physical limitations are considered and factored into the initial rider positioning on the bike.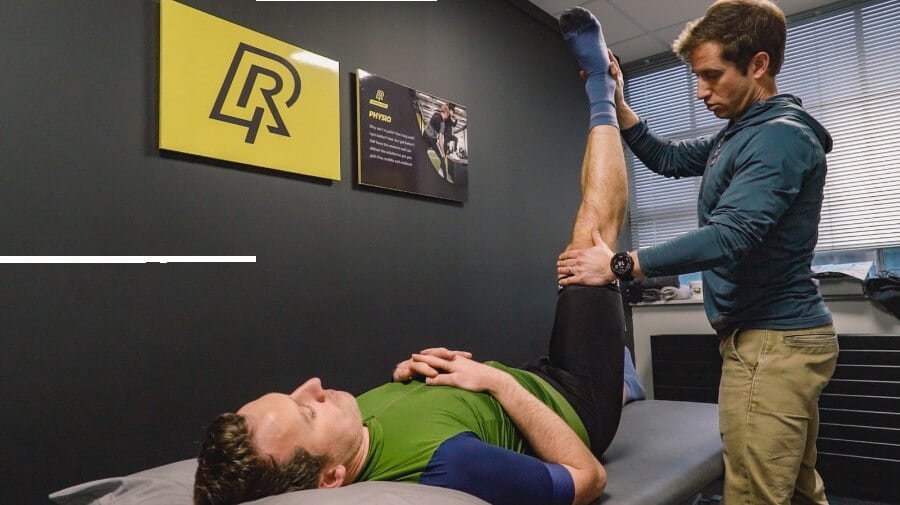 Following the static physical assessment, a dynamic assessment is carried out with the rider on the bike, here a series of further measurements using the latest software and motion capture systems are taken and combined with subtle adjustments to determine rider efficiency, comfortable position and performance maximisation.
Like all tools and techniques, it is the operator rather than the software who needs to make the decisions during a professional bike fit. Also, the clinical reasoning skills of an experienced clinician are essential when dealing with a multifactorial presentation.
On the one hand, it can be fairly simple to make the rider comfortable but that is no use if it is at the expense of riding efficiency and similarly there is little point in maximising power output if the rider is uncomfortable 20 minutes in.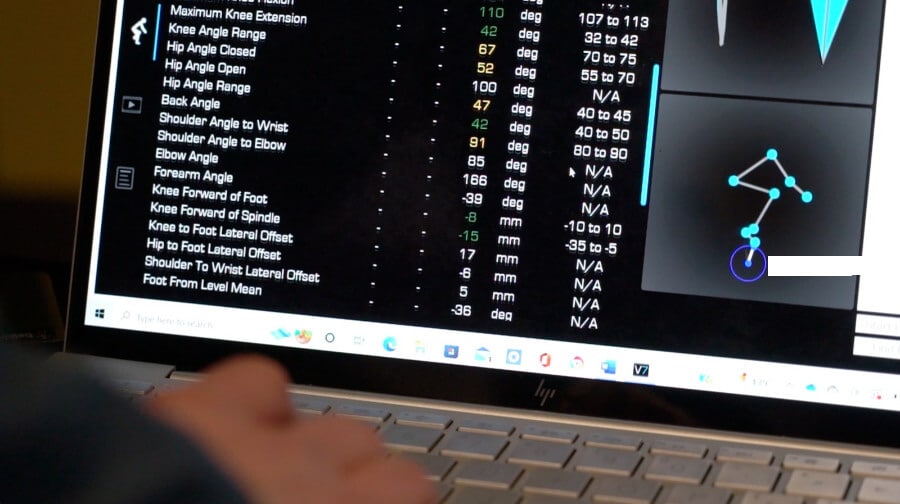 In the fit studio, the fitter will take time to analyse the data considering the riding style, body shape and upper body to lower body ratio and make adjustments to saddle height, saddle angle, handlebar drop and cleat position.
There are three contact points a rider has with the bicycle; shoe-cleat-pedal interface, pelvis-saddle interface, and hands-handlebar interface and these are of course key considerations depending on the various cycling disciplines.
Focus areas
The Cleats
There are many cleat systems available, Speedplay, Look, Shimano and others, which all offer varying degrees of adjustment, rotation, shimming and wedging. Certainly research seems to suggest allowing cleat float can reduce the incidence of knee, Patello-femoral and ITB (illiotibial band) pain.
Cleat float refers to how much rotation movement is allowed between the pedal and the cycling shoe where the cleat clips in. A fixed system allows no degree of rotation which seems counter-intuitive when you consider the rotation at the knee.
Whilst the amount of float can be adjusted depending on the cleats chosen, there is, of course, an element of personal preference, comfort and performance but in general for cyclists presenting with knee pain this is often one of the first places to adjust.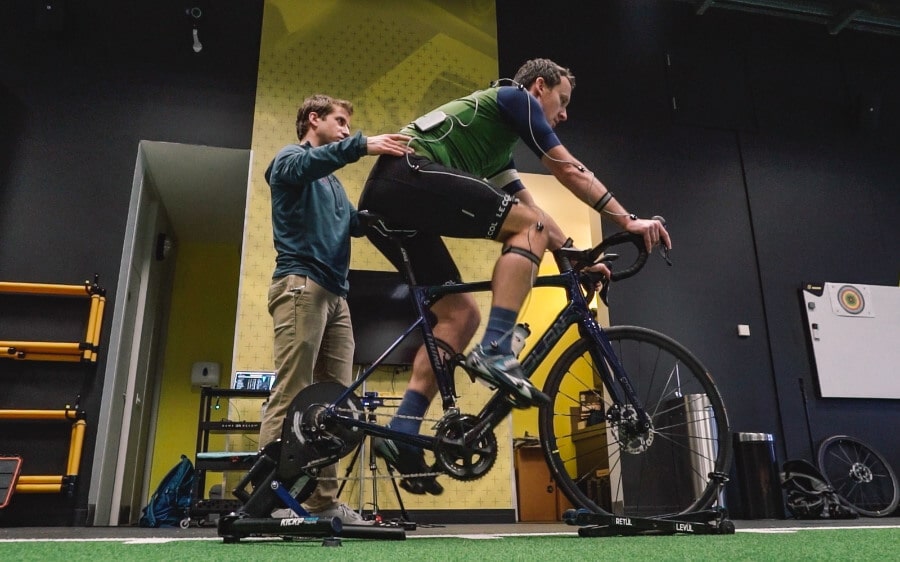 Historically the cleat was positioned so that the first metatarsal head lies directly over the pedal axle, however more recently this idea has changed to suggest that positioning the pedal axle beneath the third metatarsal head allows a more efficient transfer of power.
If the rider has a leg length discrepancy then the shoe-pedal interface can be adjusted by inserting a shim between the shoe and the cleat or by having a custom orthotic insole manufactured.
Research suggests that anything greater than 6mm is considered significant and needs correcting. Any excessive malalignment of the lower extremity, such as forefoot varus or over-pronation, can be corrected with the use of canted shims or wedges.
Our comprehensive fit service will include advice on shoes and professionally fitted cleats which is useful for both the new cyclist and the seasoned rider looking to improve overall cycling experience and performance.
The saddle
A commonly experienced problem amongst cyclists is numbness.
This can often be resolved by means of simply correcting the bike fit – evidence suggests looking at seat height (too high and forward), saddles, saddle shape (cut out and removing the long nose) and maintaining an upright position beneficial for reducing pressure on the perineum and this can be further analysed with pressure mapping and motion capture when available.
The cranks
A great deal of research discusses the physiological effects of crank length, less studies investigate outcomes related to running shorter crank on cyclists with hip, knee and ankle pathologies. Shorter cranks do seem to be beneficial for those with pathology but the impact on performance can mean this is a fine balance.
3D measurements
As part of the dynamic screening, you are analysed on the bike with the 3D motion analysis system. Measurements are taken from both sides to look for any side-to-side differences, not something that is possible through a static or 2-D assessment.
The results are then used to make any necessary adjustments. Data is taken again to view the effect of the positional changes. The aim of any fit is to obtain the most comfortable and efficient position and consequently the most powerful.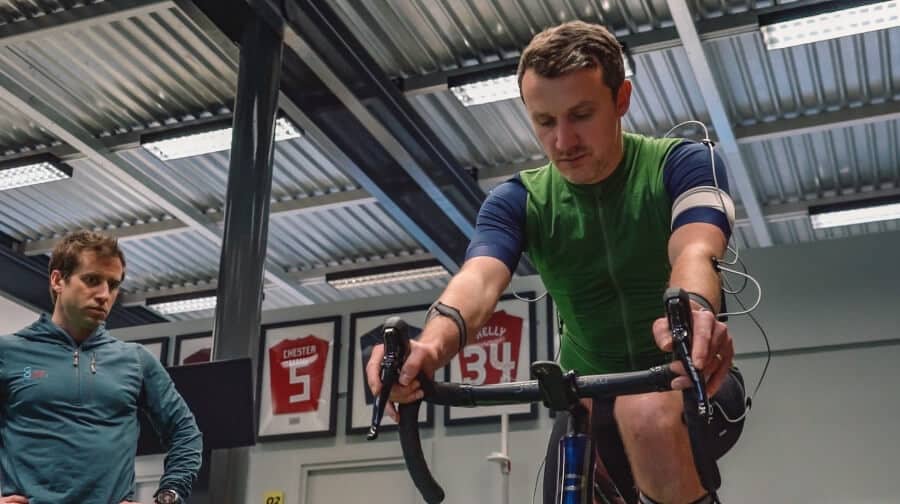 Adjustments to the bike
A bike fit session will last for around 2 hours. This is a deep dive into rider position and you will need to ride for quite a while in order that the most pertinent information can be extracted. Whilst some issues are obvious and picked up in the static or early phases of the dynamic and 3D assessment others only become obvious once fatigue sets in or an increased cadence is demanded.
The overall aim is to maintain performance whilst adjusting for comfort, injury prevention and an injury free cycling experience in the long run. What can seem a relatively small difference in terms of the frame, handlebars, crank length, seat height and saddle type can have long term repercussions and we want to do our best to keep cyclists of all levels doing what they enjoy!
Exercises and strength and conditioning.
Whilst the majority of the bike fit service focuses on rider positioning when in the saddle, our comprehensive Liverpool bike clinic approach will also provide appropriate exercises to underpin the rider performance and maximise power production and injury free riding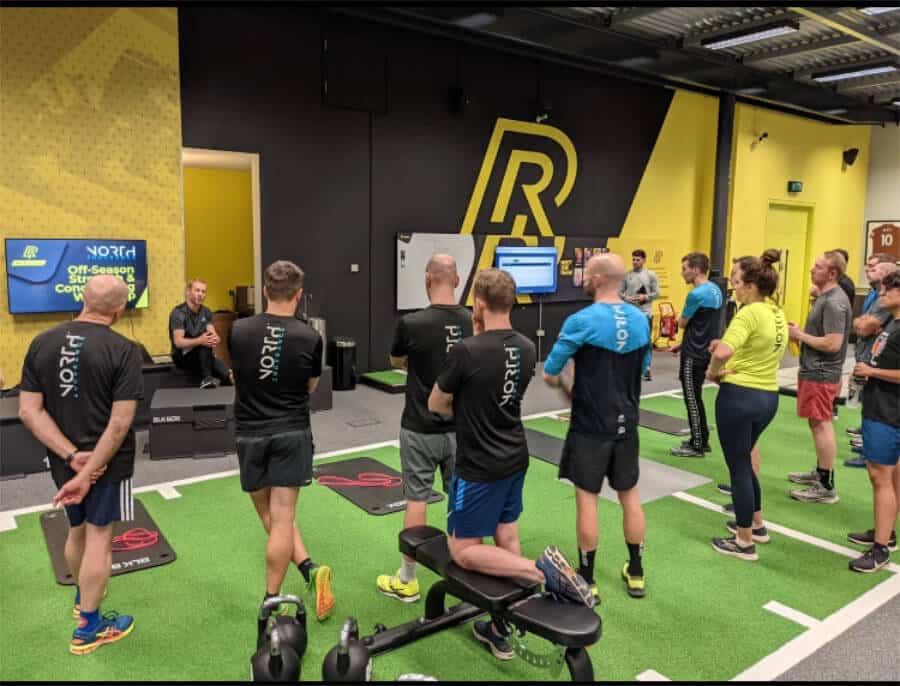 Good bike fitters are hard to come by.
These uniquely qualified and experienced Physiotherapists are able to combine outstanding clinical assessment skills with on bike analysis and produce a bespoke program of bike fit optimisation, individualised treatment and targeted strength and conditioning for a cyclist.
Whilst a DIY bike fit may seem a reasonable thing to try, it is only once you have experienced the detail and ultimately the "feel" of what a professional bike fitting service can result in that you will be wondering how you ever went without one.
Cycling is an expensive hobby, the equipment required to optimise performance and reduce injury risk can seem endless and there is nothing more disappointing than a new bike which feels uncomfortable as ultimately this will drive the amateur cyclist away from the sport and impact the fine margins required to compete for those at the elite end.
A bike fit session will optimise the equipment you have already invested in, reduce the aches and pains on long rides (with the aim being to eliminate them) and make the whole cycling experience one of comfort rather than toil.
Of course, the physical effort of cycling should be a challenge but as we get fitter this certainly shouldn't be through a pain which can be eliminated by a "professional bicycle fitting near me!"
What next?
For more information on the R4P Liverpool Bike Clinic and our Bike Fitting services click here and get ready to take you comfort and performance to the next level!